Tour Bangkok, Bangkok Tour, Day Tour Bangkok, half day tour bangkok, All tour in Bangkok,
Overnight on the Nature, walking with bags to the safari.

It is so difficult to tell anyone that "you have a chance to use your life on real safari for one night as you are having the holiday in Bangkok." It is far from Bangkok about ……Kilometers, there is a nicest waterfall in the mid of National nature Park. We called in "Mae Khamin Waterfall" Jc.Tour Bangkok had set this trip as a private tour for someone who has fallen in love with the real beautiful of the nature.
The bellowing is the highlight picture with full detail of the program, if you need to book this trip, please see and read it all.
Tiger Safari Temple; you can closely touch many animals as well as the tigers.
Our buffet lunch will be served on the Restaurant floating the River (River Side)
We are quite sure that "the Hoay-Khamin Waterfall" is the most beautiful and the best place for Camping.
Our staff will set the equipment and the place for camping area can make you feel full of the Safari Atmosphere.
The minibus must cross the "Srinakharin Dam" to the other side of the safari – Huay Mae Khamin Waterfall Location.

---
Why Jc.Tour:
Jc.Tour had registered for Tourisme Company under the rule of Thailand Law: Both Outbound(31/00971)
The right registration must be checked, and you can check for Jc.Tour at http://www.tourism.go.th
Jc.Tour is the Top Responsible and Great Service in TripAdvisor Rank.
Jc.Tour has been registering for Accident Insurance all around the world (Inbound) This make sure that all the customer of jctour is covered by Insurance in every where.
Before, During and After the service, you can contact us 24 hours.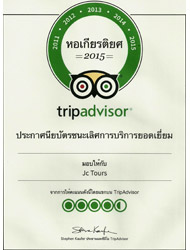 Telephone:
+66 89 5727603
Line: @jctour
Viber:
+66 98 7373153
Whatsapp:
+66 84 8053153
WeChat:
JC-Tour