Tour Bangkok, Bangkok Tour, Day Tour Bangkok, half day tour bangkok, All tour in Bangkok,
There are six Large Rivers (Nakhon Nayok River, Prachin River, Lam Ta Kong River, Praplem River and Muag Lek streem) Pass in the Park.

There are a hundred of Mountains and Hills in the Park.
There are over 20 waterfalls in the Park.
There are 5 thick safaris (Dry Evergreen, Dry Deciduous, Tropical Moist Evergreen, Hill Evergreen and Green Land) with full of 1,000 years old trees. And very interesting is that, there are thousands of Tropical Animal Species here.

Doing the Safari trip at Khao Yai National Park can be considered to be the best, please see the highlight of the pictures and submit the booking to see "the animal in the real thick safari of the best National Park in Thailand"
There are many points of waterfall, but absolutely we will take you to the most beautiful point of Waterfall.
On the road to Elephant Camp in Khao Yai, You may see this picture like these very easy, there are wild Elephant.
But at least, we have to take you on the Elephant Back and start to trek to see the animal in the safari.
We start to walk from Elephant camp to the Ox-Cart Ridding, there are a lot of wildlife which our tour guide must look after you closely.
Short Ox-Card Ridding for fun start to do. It is very nice and fun activities.
Start to trek by walking to the safari, there are many animal you have a chance to see them in the safari. But not same in Every Time "enjoy it and good luck to you".

---
Why Jc.Tour:
Jc.Tour had registered for Tourisme Company under the rule of Thailand Law: Both Outbound(31/00971)
The right registration must be checked, and you can check for Jc.Tour at http://www.tourism.go.th
Jc.Tour is the Top Responsible and Great Service in TripAdvisor Rank.
Jc.Tour has been registering for Accident Insurance all around the world (Inbound) This make sure that all the customer of jctour is covered by Insurance in every where.
Before, During and After the service, you can contact us 24 hours.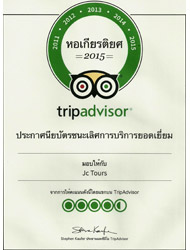 Telephone:
+66 89 5727603
Line: @jctour
Viber:
+66 98 7373153
Whatsapp:
+66 84 8053153
WeChat:
JC-Tour