Tour Bangkok, Bangkok Tour, Day Tour Bangkok, half day tour bangkok, All tour in Bangkok,
Pattaya Beach is the most beautiful destination for the people in Bangkok as well as the entire tourist who is having holiday in Bangkok.

Pattaya Beach is mixed by 3 parts-Jomtien Beach, Center Beach and Pattaya Beach. And we are going to visit them all by this trip.
This trip is a very good for anyone who need to use a day time just on Pattaya beach. Because this is the private Trip just from Bangkok and directly to Jomtien Beach (Southern Pattaya Beach) and Pattaya Beach (Northern and Center Pattaya Beach)

Please see all highlights pictures and real all the detail of the route program, and submit the booking.
The center of Pattaya will be a great point of the people who like relaxing and sun bathing. This is a great place for doing nothing.
Jom-Tien Beach or Northern Pattaya can be the heaven for every Beach Lovers.
Shopping area of Pattaya is located on the beach, you can do both Roadside Traders or in "Shopping Center."
Lunch on "Jom-Tien Beach Side Restaurant" Very nice Set Menu food and nice Location Restaurant

---
Why Jc.Tour:
Jc.Tour had registered for Tourisme Company under the rule of Thailand Law: Both Outbound(31/00971)
The right registration must be checked, and you can check for Jc.Tour at http://www.tourism.go.th
Jc.Tour is the Top Responsible and Great Service in TripAdvisor Rank.
Jc.Tour has been registering for Accident Insurance all around the world (Inbound) This make sure that all the customer of jctour is covered by Insurance in every where.
Before, During and After the service, you can contact us 24 hours.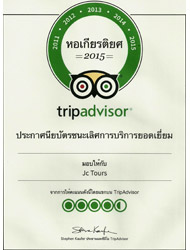 Telephone:
+66 89 5727603
Line: @jctour
Viber:
+66 98 7373153
Whatsapp:
+66 84 8053153
WeChat:
JC-Tour